A School Transition program for 4 year olds, where your child is nurtured and prepared for school in safe, purpose-built classrooms with specialist educators.
Starting school should be a positive experience for you and your child
Beginning school ought to be an enjoyable, positive experience where you and your family feel welcomed and valued. When kids feel known and accepted, they thrive, secure in their place in the world. Their transition into school is punctuated by making new friends and exploring the big wide world in a safe environment.
Imagine walking through the Prep gate and into a close community of dedicated professionals, who are committed to partnering with you to raise children of Godly character.
Your family values are supported and encouraged, and your child is excited about going to Prep.
We've been preparing 4 year olds for school since 2005
We've been welcoming local families and children into our Prep program since 2005, providing a positive learning platform for hundreds of local children.
Prep provides a transition into the school environment, with a focus on developing independence, equipping for learning and creative play. Each year a high proportion of our Prep children go on to enrol in Kindergarten at OCS.
We have two purpose-built classrooms and a dedicated play area. Prep children regularly use the facilities in the K-12 section of school including the Learning Hub (Library), onsite cafe, Junior playground and multi-purpose hall through the year, thereby becoming familiar with big school. Class sizes are deliberately small so every child gets the attention they need, with a maximum of 20 students in either Prep class.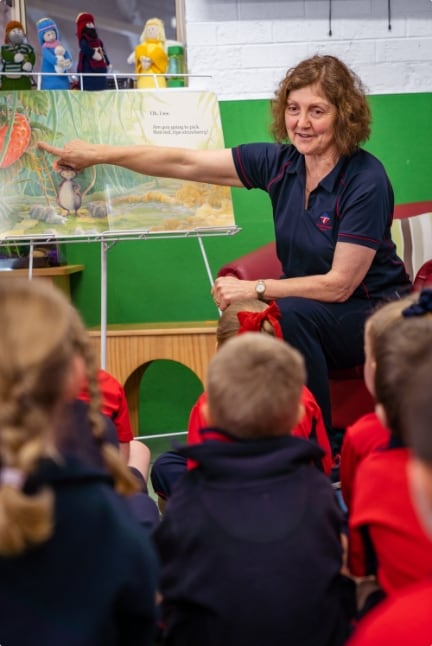 Orange Christian School Prep 4-year-old School readiness program was the perfect transition for our daughter into Kindergarten. She was exposed to a real classroom environment in a fun and age-appropriate way, and it made 'big school' a lot less daunting. It was an obvious and easy decision to continue her through into Kindergarten at OCS. The relationships she'd built with the other children in Prep going through, and the continuity of care that the school provides in the transition gave her a safe and enjoyable start to her school life.

Anna & Josh Sims, OCS parents
We build a learning foundation for your child that will return dividends for years to come
In Prep, we build independence, develop language, literacy and numeracy skills, and hone fine and gross motor skills in each student.
Aligned with the Australian Government's Early Years Learning Framework, Prep runs a project-based learning and development program that extends on each child's interests, skills and needs.
No-one knows a child like their parent does
We know that when selecting a school for their child, parents need to feel confident in that partnership.
We intentionally create partnerships with parents from your child's earliest days in Prep. Clear, open communication between home and school means we can care for your child in the best possible way. Your child's teachers will chat with you at drop-off and pick-up, and you'll get notes and communication through the Schoolstream app. Each child will receive a Portfolio at the end of the year, and parents can see their child's work at any stage to keep track of their progress.
Our goal is for every child to know they are a unique, valued child of God
Our Prep curriculum is taught from a Biblical perspective. Every day starts with prayer as well as reading and exploring Bible stories. We learn songs about Jesus, pray for one another, and celebrate when Christian character is displayed.
In Prep, children are gradually integrated into the whole school community in age-appropriate ways
Our goal is to familiarise our youngest children with the school facilities and staff for an easy transition to school life. Your child will visit the library, Junior school playground, our on-site café (Bembooka), build connections with older children, and join our Junior school assemblies.
Co-Curricular Opportunities
Continuity of care on-site
Prep children can stay on the school grounds until 5.30pm and enjoy the same level of care all day with our After School Care program. You can finish work and then pick them up on the way home as you wrap up your day.
A day in Prep at Orange Christian School
Children arrive at Prep wearing their uniform.
We start the day with roll call and prayer, and get ready with sunscreen and hats for outside play. Children can explore the dry riverbed, get brave on the obstacle course and climbing equipment or have fun with friends in the sandpit or on bikes.
After lunch it's indoor learning time on the mat. We play literacy and numeracy games together, read books, do puzzles or painting and play in the home corner or with blocks.
Afternoons are filled with music, singing and dancing. There's time for craft or table activities before it's time to go home.
Home time pickup or transition to After School Care.
Meet our Director of Prep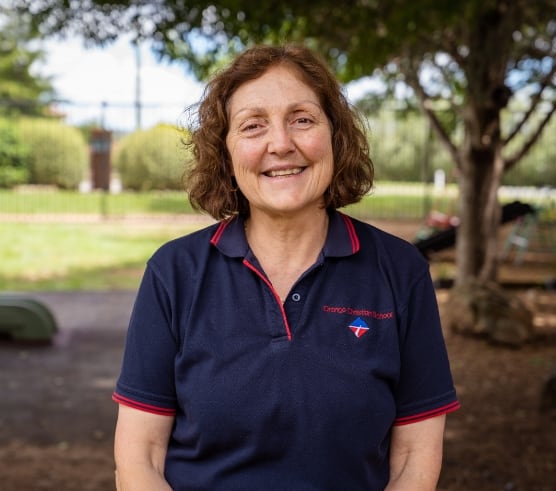 Rosa Cunial
Rosa is the head teacher in our Prep Green room. She has a passion for providing quality early learning environments for children. Brain research has highlighted the impact of early experiences in a child's life and evidence has proven that the most rapid brain development occurs in the years before school.
Being up to date with evidence-based research and implementing this in innovative programs that helps promote learning and development. This sets the tone for life-long learning. She has a Bachelor of Teaching (Birth to 5 years), a Diploma of Children Services (Early Childhood Education and Care) and has been teaching in Prep since its beginning in 2005.
Frequently Asked Questions (FAQ's)
How do I know if my child is ready for Prep?
The only requirement is that children need to turn four by July 31 of the year they enter Prep.
What is the orientation process for Prep?
We hold an Open Day for the community in Term 4, but every child and their family will have their own personal tour on enrolment.
What will my child wear to Prep?
Prep students wear our Orange Christian School sports uniform of polo shirt and shorts, a school bucket hat and a pair of comfy, enclosed joggers or runners.
What days and times does Prep run?
Prep program runs from 8:30am – 4pm for 40 weeks per year. See Term Dates for start and finish dates of each term.
How does Prep help my child transition to Kindergarten?
Orientation starts in Term 4 when Prep students (and new enrolment) spend two mornings in the Kindergarten classes getting to know the Kinder teachers.
Each new Kinder student is paired with a Year 6 buddy to support them on their first day of school, to ease the changeover into the 'big' school environment. Kinder children and their buddies have lunch together and do activities that promote a sense of belonging like reading, board games and sports. Kinder students also have a staggered start in the new school year to help them adjust to their new routine.
What parts of the school will my child get to visit in Prep?
Prep children will visit the library, Junior school playground and our on-site café (Bembooka). They will connect with older children for maths games and story time and join our Junior School assemblies in our large multi-purpose hall (Ngalgarra Hall).
Will my child learn music in Prep?
Music is enjoyed informally through on-site music concerts and Junior assemblies. Prep also participates in the biennial Primary musical. Children can also access our experienced music tutors for private lessons.
What support is available for my child with additional needs?
We provide a child-focused program that acknowledges each child's uniqueness including their interests, skills and needs. Teachers in Prep work closely with Allied Health Professionals in the community, which support children with additional needs and those needing extra assistance.
Is After School Care available in Prep?
Our After School Care program provides continued quality care on-site for your child until pick-up time. After School Care is available to all OCS students from Prep to Year 6, Monday to Friday during Term times.
What does my child learn in Prep?
Prep is an introduction into the school environment, with a focus on developing independence, school readiness and creative play. Our goals are to build independence, develop language, literacy and numeracy skills, and hone fine and gross motor skills in each student.
Children also learn about Jesus every day through Bible stories, prayer, and songs.
Ready to join us at Orange Christian School?
Discover if OCS is the right fit for your family
Take a tour of OCS with our Registrar
Submit an enrolment application online