Middle School (Years 5-8)
In Middle School, we create an inspiring learning space where your child can discover their unique strengths and build their academic knowledge and understanding.
A smooth transition through school shapes emotional wellbeing
As your child enters the Middle School years, we are here to partner with you. The pre-teen and teen years can bring both challenges and opportunities to explore, and a supportive wellbeing program and engaging curriculum are both critical to success.
In these formative years, your child will benefit from rich learning opportunities so they can develop soft skills, a spiritual awareness and deeper academic knowledge. When young people are given the chance to try new things and develop resilience, they become confident in their abilities, secure in the knowledge that they can contribute to the world in meaningful ways.
We provide Middle School students with a broad range of educational experiences and opportunities so they receive a well-rounded education. Our goal is to encourage and motivate each child to take an active role in their own learning as they prepare to make their contribution in the wider community.
Since 1981, we've delivered a holistic Christian education to hundreds of children and families in Orange.
At OCS, our Middle School program is designed for an effective move between Primary and Secondary schooling so children become engaged learners with healthy emotional wellbeing. 
With purpose-built classrooms, experienced teaching staff and a focus on whole child wellbeing, our goal is to establish a connected, Christ-focused community that delivers a quality education. As a Prep to Year 12 school, Middle School students benefit from access to specialist equipment, facilities and teachers for focused lessons in music, drama, sport, computing, visual arts, STEAM and language.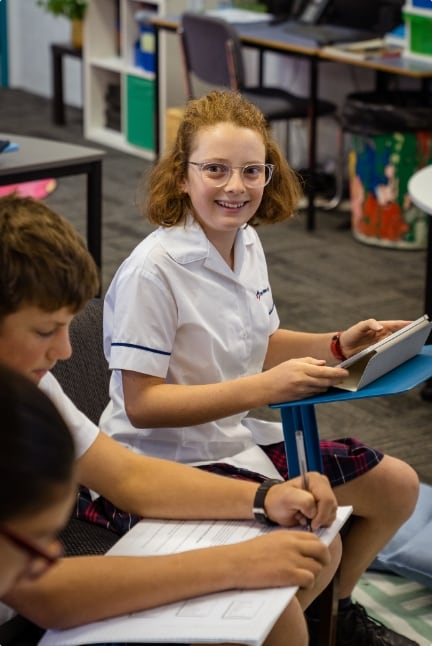 Developing study skills & a growth mindset
In Middle School, we continue to build on the strong Literacy and Numeracy skills and expand those into eight key learning areas in Stage 4. Every Middle School student is involved in our Band program and learns to play an instrument, as well as studying Technology and learning Auslan (Australian Sign Language). Our focus is to help students become independent learners so they can take the next steps in their education.
Regular, open communication
Kids flourish when there's a positive working relationship between home and school. Relationships thrive on good communication, which can take a variety of forms: Information Nights, Parent Teacher interviews, written reports, newsletters, on-site meetings and our Schoolstream app.
Parent involvement in children's learning increases a child's sense of belonging, and improves learning outcomes. In Middle School we have many opportunities for parents to be involved in our extensive sport and outdoor education program.
Finding meaning in God's big picture
We teach the Middle School syllabus from a Christian perspective. In curriculum, students begin to understand who we are, how we relate to the world and each other; being made in God's image. Middle School students can wrestle with spiritual concepts as Christ is made known. Daily devotions, lunch groups, worship teams and assemblies all provide opportunities to grow in discipleship.
Nurturing an outward focus
To help build strong, confident and dedicated young people, we explicitly teach organisation, motivation, resilience and service. We run leadership-focused excursions and an outdoor education program that focuses on self-awareness and teamwork that serves others. Year 6 students experience servant leadership first-hand through our Kinder Buddy program. Middle School students are involved in numerous community service projects like Clean Up Australia, Cancer Council, Red Shield Appeal, 40 Hour Famine and Operation Christmas Child.
Co-Curricular Opportunities
Homework support & sport for growing kids
Middle School students have a number of options of co-curricular opportunities for a well-rounded education, including training programs and competitive team sports.
STAR (Students Taking an Active Role) homework centre provides a safe, structured environment where students can complete homework and get the support they need from qualified staff, freeing them up for other activities once they get home.
Frequently Asked Questions (FAQ's)
What outdoor education and camps are available in Middle School?
In Stage 3 students enjoy one camp each year. In Stage 4 there are two camps per year. Previous camp locations have included Hill End, Canberra, the 6 Foot Track and Wambangalang. Each experience develops something new in the character and learning of the students: from personal challenge, history, teamwork, resilience, and surfing to cooking your own food by a creek bed. Camps and excursions are a great way for keen parents to volunteer and get involved in the experiences their kids are having in these pivotal years.
How does my child transition from Junior to Middle School?
Junior students visit the Middle School towards the end of Year 4 to get to know the space, where they put their bags and who their teachers are. Junior and Middle teachers consult thoroughly to ensure learning needs are met and development continues.
Can my child enter into Year 7 from another school?
Yes. Students can enrol at any year level. A Discover Year 7 experience day is held in Term 1, where we meet prospective students, do some Year 7-style activities and get to know the school. A parent information night follows so parents can ask questions and find out what's on offer at OCS. In Term 4 we run our Orientation Day to further cement familiarity with the school, get to know current students and how the school runs. Alternative experience days are possible by appointment.
Is After School Care available for my child in Middle School?
Our After School Care program provides continued quality care on-site for your child until pick-up time. After School Care is available to all OCS students from Prep to Year 6, Monday to Friday during Term times.
Is learning support or extension work available if my child requires it?
The Academic Growth Centre (AGC) team includes a Learning Support Teacher, an Enrichment teacher and a team of teacher aides who support students across the school who need support or extension.
The AGC team supports students throughout the school, checking in throughout the week, depending on each child's needs. Students may require adjustments made in the classroom (support or extension).
What opportunities in the Creative & Performing Arts are available in Middle School?
Middle School students have opportunities to strengthen their performance skills in various groups, including Concert and Stage Bands, school musicals, worship team, choir and string ensemble.
Ready to join us at Orange Christian School?
Discover if OCS is the right fit for your family
Take a tour of OCS with our Registrar
Submit an enrolment application online